Areas of Practice
Eliza J. Minsch focuses her practice on civil litigation, family law, employment law, housing, residential real estate, estate planning, disability law, consumer protection, and personal injury.  Attorney Minsch joined the firm in March, 2005 and became a Partner in March, 2014. In January, 2016, she became a managing partner of the firm with Attorney Norris.
Education
J.D., Northeastern University School of Law, 2004
B.A., Ithaca College, 1998 (cum laude)
Professional Experience
Attorney Minsch practices in multiple areas ranging from family law, estate planning and real estate matters to litigating complex personal injury and employment discrimination cases.  Attorney Minsch has litigated cases before judges and juries in the Superior Courts, Probate & Family Courts, District Courts, Housing Court, Mass. Commission Against Discrimination, Department of Unemployment Assistance, Department of Industrial Accidents, and state retirement agencies. Prior to joining Petrucelly, Norris & Minsch, Attorney Minsch worked with a small local firm representing clients with disability matters.  During law school, she interned for a United States Magistrate Judge, provided legal assistance to low-income clients at a legal services hotline, and worked at two small firms in the Boston area.  She also advocated for low-income clients through Northeastern University's Poverty Law Clinic.
Practice Highlights
Successfully defeated an appeal by a client's former spouse who sought to overturn a divorce agreement.
Adeptly resolved a complex step-parent adoption.
Represented a University Professor, along with Attorney Jeffrey Petrucelly, who suffered gender and racial discrimination. After a six (6) day public hearing at the Massachusetts Commission Against Discrimination (MCAD), the Professor was awarded promotion to Full Professor and received a significant monetary award. For more information, please see:MCAD Press Release.
Represented a female employee in a sexual harassment and gender discrimination lawsuit against her former large corporate employer at both the Superior Court and Appeals Court levels.
Successfully represented tenants in a trial and at the appellate level against their former landlord for his failure to provide adequate heat during the winter months and other violations of the Massachusetts State Sanitary Code.  Obtained a favorable judgment for the clients as well as a substantial attorney's fee award.
Negotiated a favorable settlement on behalf of a low-income family suffering from mold infestation in their rental housing.
Attained a considerable settlement on behalf of a pedestrian hit by a motor vehicle.
Achieved a class action settlement on behalf of a group of Cambridge tenants who were charged an illegal finder's fee.
Assisted disabled state employee in obtaining retirement benefits after he was denied due to questions of causation and extent of limitation.
Admissions and Memberships
Attorney Minsch was admitted to the Massachusetts Bar in 2004 and the United States District Court for the District of Massachusetts in 2011.
She is a member of the Massachusetts Bar Association and the Women's Bar Association. Attorney Minsch serves as the co-chair for the Women's Bar Association's Mother's Forum Committee.
Publications
Attorney Minsch has published in legal and non-legal publications, including:
Mental and Emotional Disabilities:  An Employee Perspective, Chapter 23; Massachusetts Employment Law, MCLE (2015)
Beyond Learned Helplessness: Effective Advocacy for Survivors of Domestic Violence; Massachusetts Lawyers Journal, May 2015.
Recognizing and Avoiding Employment Pitfalls, Massachusetts Nonprofit Network, December 9, 2013
Awards and Honors
Named a "Massachusetts Rising Star" in 2008, 2009, 2010, 2013-2016 by Boston Magazine and Super Lawyers.
Additional Information
Attorney Minsch is Clerk of the Board of Directors for Transition House, a domestic violence shelter and a non-profit organization located in Cambridge, MA which is dedicated to the prevention of domestic violence through education, outreach and intervention.
She lives with her husband and young daughters in Sudbury, Massachusetts, and spends her free time practicing yoga, reading and wishing she had more time to travel.
To contact Attorney Minsch please email her at: Eliza@pnmlegal.com or call her at the firm: (617) 720-1717.
(617) 720-1717 | Eliza@pnmlegal.com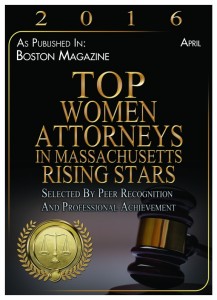 < Back to Attorney Profiles